To celebrate our new website we have introduced two new locos to the range. The Scooter is a ride on auto trolley style loco, which can carry the driver and can also be configured as a two-person tram. This simple, robust design can also be used to haul passengers or freight on tight radius tracks in the garden or at the club. You can read the full story on the Scooter by clicking here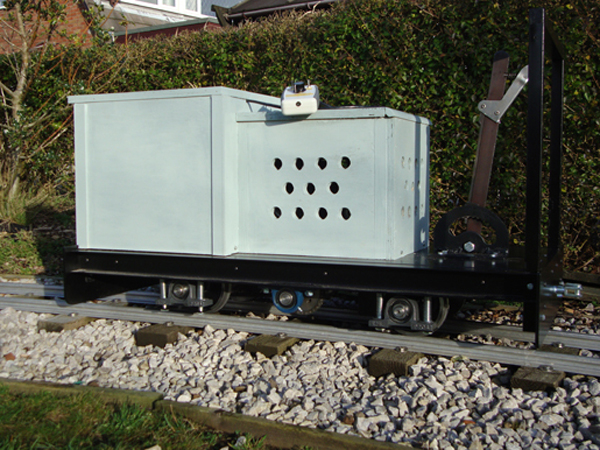 The newest addition to the range is The Comet, initially available in 7¼" gauge. The all steel construction comes finished in the colour of your choice and can be built without any special tools or engineering knowledge in a weekend. The loco will make its first public appearance at the Narrow Gauge North Show on Saturday 9th March. Take a look at the specification and the pictures of Comet No 1 in the gallery.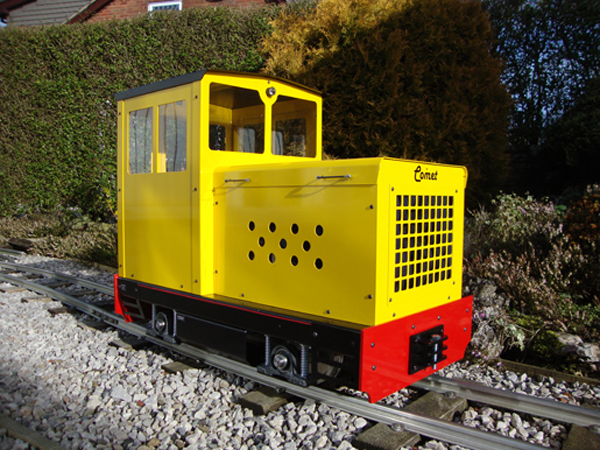 The new web site design allows us a lot more flexibility. The last design had evolved through a number of iterations as the company expanded, adding new products to the range, and increasing the amount of information we make available. We had finally reached a point where we were outgrowing the design, and the code behind it that makes the whole site work.
We took a long look at the old design, and identified the areas that we were doing well, and things we could improve on. We have always been interested in feedback on what we do, and every time we speak to customers we make a note of their comments, both positive and negative, and we've factored a lot of those things in to our thought processes with approaching the new design.
We really do hope you like the new design and we of course welcome feedback, do you like it? Do you hate it? Does something break? (Please get in touch if it does, and we'll do our best to replicate the problem and fix it as soon as we can). You can give us a call, drop us an email, or find us on Facebook.
Our very first version of the site, many, many years ago, was flat file html, which required each individual file to be changed if an edit was needed to the layout. Through each subsequent major evolution of the design, we've tried to design the code in a way that keeps up with the growth of the company and allows for expansion in line with our business plan. With the launch of the new design, we're tracking almost 3,000 individual bits of data, some big, some small, some the nuts and bolts that allow us to know what pictures or pages to place with which products. Our hope is that all of the little things add up, and that all the subtle (and sometimes not so subtle) design decisions add up to a positive experience.
Many of us use the Internet on a daily basis, we have all come across web sites that make us scratch our head and wonder what someone was thinking. We've done our best to keep the site accessible; to present the important information clearly and prominently so that time isn't wasted trying to find the information you need or want.
The process of design never really stops. Even as we launch, we have plenty of ideas about what to do next, new features we want to implement, and other projects we want to try. With the new design, we have the flexibility to do the new things we want, it will cope to any expansion to the product line without any re-designing or re-coding.
Whilst we're talking about our site, we thought it might be nice to share some statistics (our in house web designer likes such things) about the site. We've been using Google Analytics (GA) for a couple of years now.
Since we started using GA we've served just over a staggering 370,000 pages to people from 117 countries around the world. Although, admittedly our visitor from Sudan didn't stay long, so we think they found us accidentally.
The top 20 countries of visits is as follows:
United Kingdom
United States of America
Germany
Australia
New Zealand
France
Netherlands
Canada
Spain
Switzerland
Austria
Sweden
Denmark
Japan
Belgium
Italy
Ireland
Hungary
Russia
India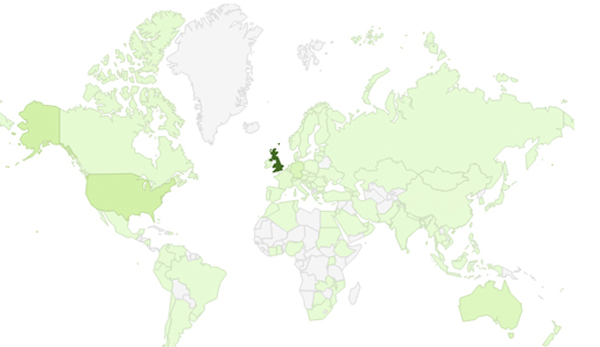 As you can see from the image we get visitors to our site from all over the world. The darker the country is coloured the greater the number of visitors.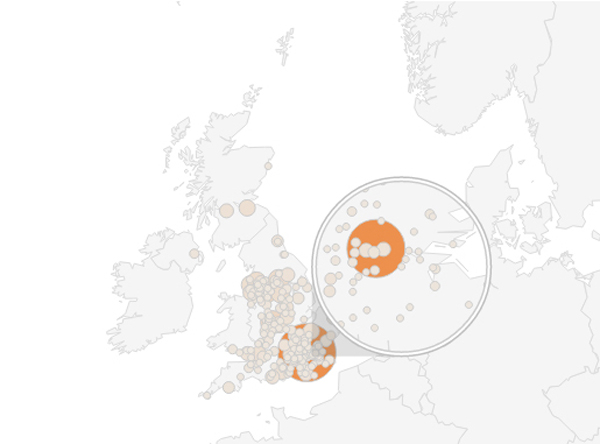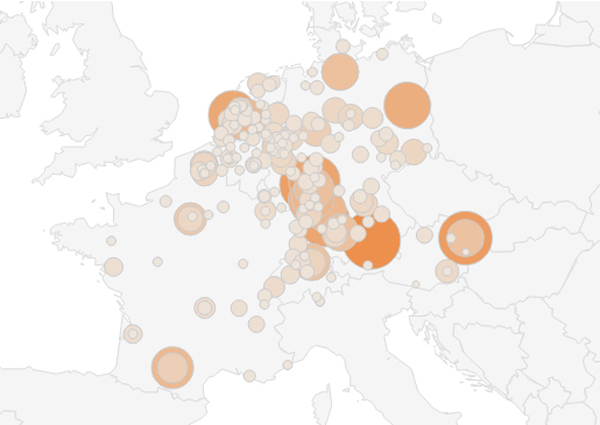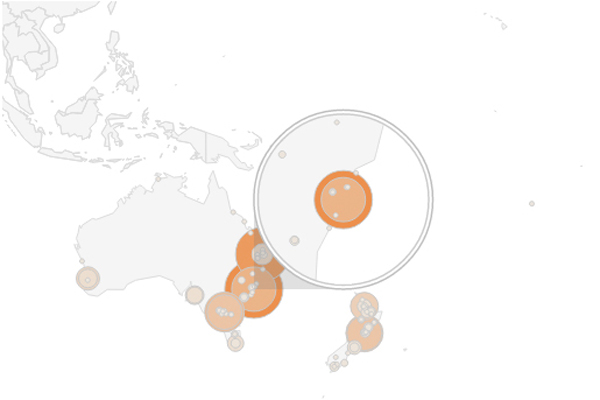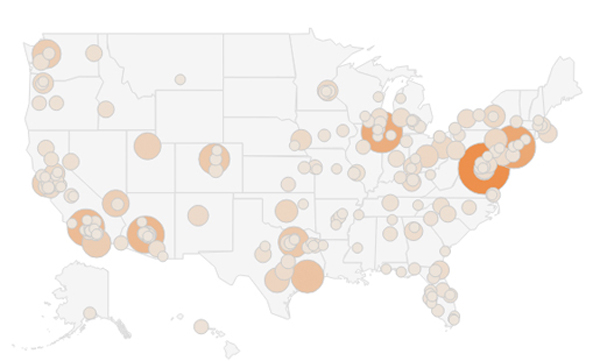 The maps displaying geographical hit density correlate strongly to worldwide population densities as can been seen in the previous images. We're constantly encouraged to have our site visited from all over the world, and have delivered locos to a number of locations that make it into the top 20 for visits from. You can check out page about international delivery, and if you would like a more personalised quote, without any obligation, for delivery to your location, feel free to drop us an email or give us a call during our business hours.
On a more technical front, we have a lot of information about the computers used to access our site. We don't collect any personally identifiable information through GA, however, we can tell small things, like the browser and version, or the screen resolution of the people visiting our site. This allows us to use lots of small details in order to give us a broad understanding of how people engage with our site, which along with global trends influences the decisions we make when designing the site.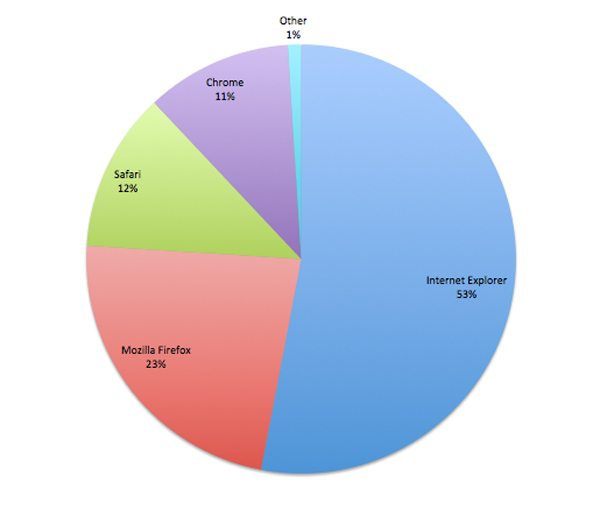 We also know that Internet Explorer accounts for the browser in 53% of visits, followed in popularity by Firefox (21%), Safari (12%), Chrome (11%). Of the 53% of people using Internet Explorer we can tell that 95% of those used versions 7, 8, 9 or 10. 4% of only the visitors using the Internet Explorer use version 6, which is now over a decade old. This is 2% lower than Microsoft's own data on the eventual decline of IE6. We've made the decision not to support this browser, and encourage the users of it to upgrade to the latest version, or check out the latest version of a different browser. On the trajectory of the decline in usage of IE6, within 2 years, less than 1% of users on the web will be using it and as such we have made the decision not to support it. The site should still load, and may well be usable, however we can't guarantee it. Having said that, we have tested our site on various versions of major browsers such as Internet Explorer from version 7 upwards, the latest major versions of Chrome, Firefox, Safari and Opera on both Windows and Mac OSX where applicable, and the popular mobile browsers we have access to, in order that we provide an acceptable experience to the people who visit.
We have also joined the world of Facebook. We've embedded our Facebook news feed on the homepage, as well as a link to follow us on twitter, so any updates we post there will also reflect on the front page of our site. We've joined Twitter too, and plan to start tweeting with the launch of the site. We're going to do our best to pay attention to both, and try and post updates when we have interesting things to say (and not flood your feeds with duplicate or benign content). We're planning on posting more of our out and about photos to social media, and posting about updates and new news items on our site to stay engaged with you. We're also signed up to Youtube. We're committed to providing more video content in 2013 and Youtube is an excellent platform for doing so. If you have a Youtube account, you can follow our channel and our videos will show in your feed, and we'll be sharing our uploaded content on other social media sites. Links to our presence on such sites can be found by clicking on their respective logos at the top right of each page.
Finally, we again hope you like the new design, and we welcome all feedback as we always strive to do better. We look forward to hearing from you.