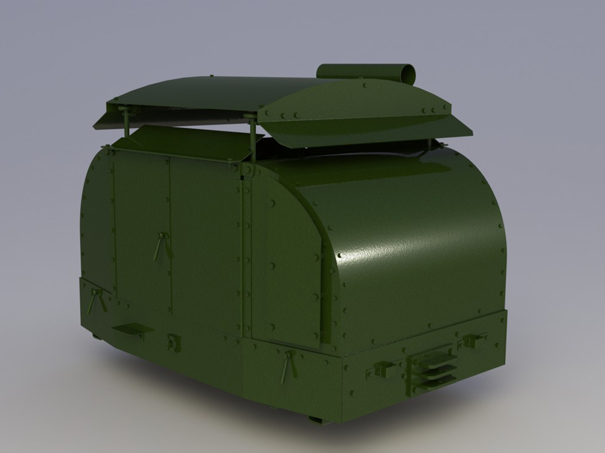 We are rounding off 2014 by introducing the iconic Simplex 40hp protected locomotive. Produced in 1917 by the Motor rail company for the war Department, these locos soon acquired the name "Tin Turtle". Similar in size to the Comet and Project Loco range at 32ins long, the loco makes a practical solution for the garden railway or club track.
The loco is just over 1/3rd scale and is available in 7¼" and 7½" gauges. We can also re-gauge the loco to 5" for use on ground level track.
We have added new pages to cover the specification and other information about the loco.
Read More
We went to Derby Society of Model and Experimental Engineers last Sunday to introduce the 5in gauge version of the Vale of Ffestiniog locomotive.
We had a tremendous day, we had perfect hosts, we were greeted with a bacon barm and a cup of tea. We had the run of their tremendous ground level track with some serious gradients both up and down! This track has it all, with a girder bridge and a tunnel, cuttings and embankments, electric points and signals.
Our friend Dan brought his Titan 5 to run as well and his loco performed a lot of passenger hauling duties all afternoon.
This was the first outing for the Vale of Ffestiniog, so we were keen to get some serious running and some passenger hauling completed. The loco ran fairly continuously for 5 hours with a selection of drivers and passengers including two dogs (videos to follow). We ran various combinations of passenger trucks and passengers and the loco performed all that was asked of it.
The Derby members had a drive of the loco and were great passengers too. They made some very kind comments about the loco. The one comment we heard several times, was that they thought the price was very reasonable.
We finished off the day with tea and cake in the clubhouse, before wending our weary way home.
Our thanks to Derby Society of Model Engineers. Great day, great track and great hospitality.
You can find out more about the 5 inch Vale of Ffestiniog here.
Read More